Ants and Termites and Bed Bugs, Oh My!
You know what really bugs me? BUGS. I hate them. Yeah, I guess they're necessary, or whatever, for a balanced ecosystem, or something. I don't care. They need to stay out of my house (and my face) or suffer the deadly consequences. For I am a murderer of bugs. An annihilator of insects. This post is about my buggy experiences and my serial bug killer ways. Ants, termites and bed bugs need to GTFO, or die.
The Ants are Back
Spring is here and so are the freaking ants. They show up every year, right around… well, right now. When I bought my crappy house, nearly ten years ago, the ants had taken over the place. This bedroom had a Pergo floor.
When I pulled it up, the ants underneath were so thick that I couldn't see the floor beneath. They looked like solid, black stains.
Stains that moved.
And I remember the trauma of removing the bottom piece of trim (hidden behind the curtain) on this window when gutting the living room…
When I pried it off of the wall, so many ants dropped to the floor that they made a sound. Guys… Thousands of ants hitting the floor at once make a freaking sound…
On moving day, I put Egor in the dressing room so he would be safe while we carried in the boxes. I put a few treats on the floor, but he was too nervous to eat them. (It was moving day, after all. I was nervous too.) I checked on him an hour later and the treats were completely black, covered in ants. There was a trail, like a half inch thick, of ants leading from the treats to the wall. I don't have a picture of this, but here's a re-creation.
Of the many methods I've tried to get rid of my ants, these Terro liquid baits work the very best. With each passing year, the ants seem to return in smaller and smaller numbers. (Unlike the Sand People.) Perhaps it's a story that's passed down from generation to generation, like a ghost story. The elder ants tell the larvae to stay away from my crappy house because the ants who go scouting end up bringing the plague back to their families and then everyone dies.
Stay outside, ants, and we won't have a problem.
I Had Termites Too
It's a good thing I gutted every room in my crappy house when I first bought it because I found a lot of termite damage in two of the bedrooms. Of course, I didn't take pictures of the damage (Who knew I'd be blogging about it ten years later? I'm not psychic.), but I do have pictures of the fix.
See those extra studs? They're called sister studs. Their job is to reinforce the damaged ones so the wall maintains it's integrity. Sisters are so supportive. (So I hear. I don't have any.)
There were no live termites way back in 2011, but three years ago, I found a ton of bugs in my office one awful afternoon. Seems they were getting busy in my craft supplies.
Sure enough, the termites had returned.
Fun fact:
The total weight of termites in the world is greater than the total weight of humans in the world.
Wait, did I say fun? I meant horrifying.
So, what's one to do when they get termites? What did I do? Well, luckily, I have a friend in the business. He told me the best system to get rid of termites is called Sentricon. They're subterranean bait stations that you put outside the perimeter of your home. (Well, the exterminator guys do it because this stuff is only available to them. Honestly, I'm not sure why. Seems totally DIYable to me…)
If I didn't have a friend in the biz, I probably would have gone with the Hex Pro system, which is another subterranean bait made by the same company as Sentricon, but is available to us regular people who prefer to DIY. (Seriously. Why do you need a bug license to drill some stupid holes in the ground? I don't get it.) Anyway, I have not seen any termites since installing the system in 2018.
Go eat someone else's house, jerk termites.
My Bed Bug Story
Once upon a time, I lived in a crappy apartment where I got bed bugs from one of my crappy neighbors. My crappy landlord didn't care that his crappy building had bugs and refused to help me, so I had to destroy them by myself.
DIY style.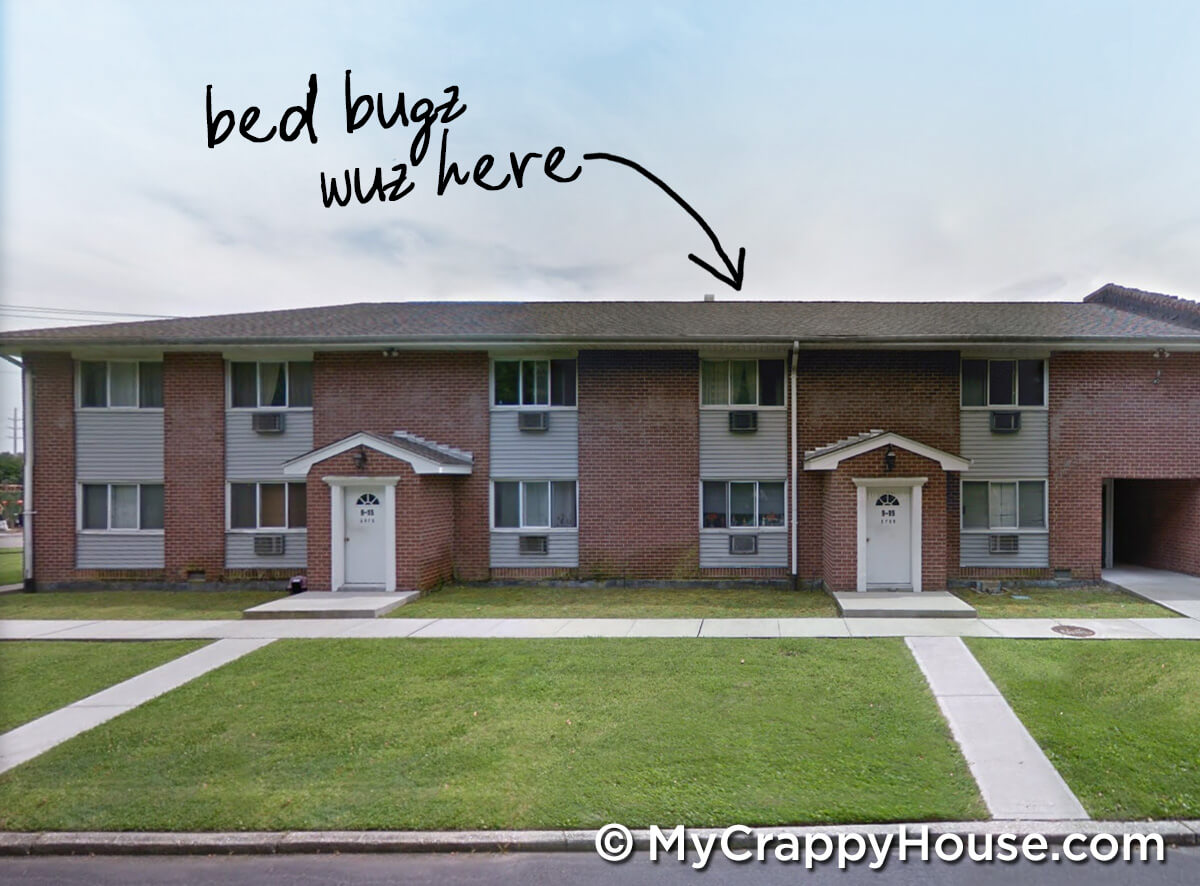 I eventually won The Bed Bug War of 2010, but the trauma changed me on a fundamental level. I was bitten by the DIY bug (different than a bed bug) and it made me realize that I had no use for a crappy landlord. Princess Spackle was born! All I needed was my own crappy house to use my DIY skills on.
So I bought one.
The End.
Yes, of course I'm going to tell you all about how I got rid of them, but I don't have time for that in this post. It's a long story and I'm very busy planning my wedding. (Countdown: 24 days…)
If you are here reading this post because you have bed bugs, what you'll find here is my sympathy (also my empathy… and a virtual shoulder to cry on…), but no actual help. Like I said, though. I'm totally going to write a post all about it and when I do, I will link it right here. (If the word is pink, then it's a link…)
Bed bugs stink.
I'm a poet, I think.
I need a drink.
*This post contains affiliate links