Master Bedroom Ideas: Design
Middle Bedroom Syndrome
My master bedroom is the 'Jan Brady' of my crappy house. For the last ten years, it's been completely ignored. Overlooked. Forgotten. Watching the other two bedrooms get all of the attention while it just sat there, all sad and neglected. I'm sure it has a complex by now and will need lots of therapy. You've seen the other two rooms many times. My dressing room (the popular one with all the internet admirers) and my offith (the cute and thmart one) have been featured many times on My Crappy House. I'm thinking it's finally time to pay some attention to poor 'Jan'. Let's talk about my master bedroom ideas!
(My design ideas, you weirdos. This is not that kind of blog.)
Hey, nice painting, right? I call it, "Synchronous Boudoir Realities." If you believe in parallel universes, then there's a reality out there where I already have a beautiful bedroom. (In fact, in that reality, I finished working on my crappy house ages ago and sold it for nine times what I paid for it and retired early and moved to the English countryside.) Of course, we're not in that reality. We're in this one. Remember?
This room has always been an afterthought. Actually, no. It's been a neverthought. Like, I never think about it. Aside from replacing the windows, I've done literally nothing to improve it in ten years. No wonder it's depressed. I haven't even bothered to keep it tidy.
Clean Rooms are Better
Don't worry. This is not another cleaning post, but I wouldn't be me if I didn't brag about the wonderful job I did in here this past week. I used that cleaning method I told you about a few weeks ago. It really works!
(Why, yes, I would like your praise for this accomplishment. And a gold star, too? Oh, thank you! You're very kind.)
You may have noticed my messy vanity above. I have no idea what to do with all of my makeup crap. Clearly, I have a problem, but that's an issue for another post.
Some Crappy Repairs
Before I can make with the pretty, I've got some repairs to do. The sheetrock in this corner has never been right and the edges stick out in a bunch of places, which will make installing trim a pain in the arse. I need to rip it out and replace it.
I've also got some water damage near one of the windows that I have to fix.
Then I have a bunch of popping screws to tighten. I have no idea why so many popped. Maybe it was my bedroom, desperately trying to get my attention. It didn't work, Jan…
Make With the Pretty
Once I take care of those things, and add all of the moldings (this room has none), then we can start focusing on the pretty. I've always thought a muted grayish purple would look nice in here, so I've been collecting swatches.
Are you sensing another trip to Crazy Town? Because I totally am… But, before I buy samples of every dusky, muted purple from every hardware store within a 50 mile radius so I can paint a ridiculous number of swatches on my bedroom walls, how about I start with a mood board?
My Master Bedroom Ideas
Here's what I'm thinking…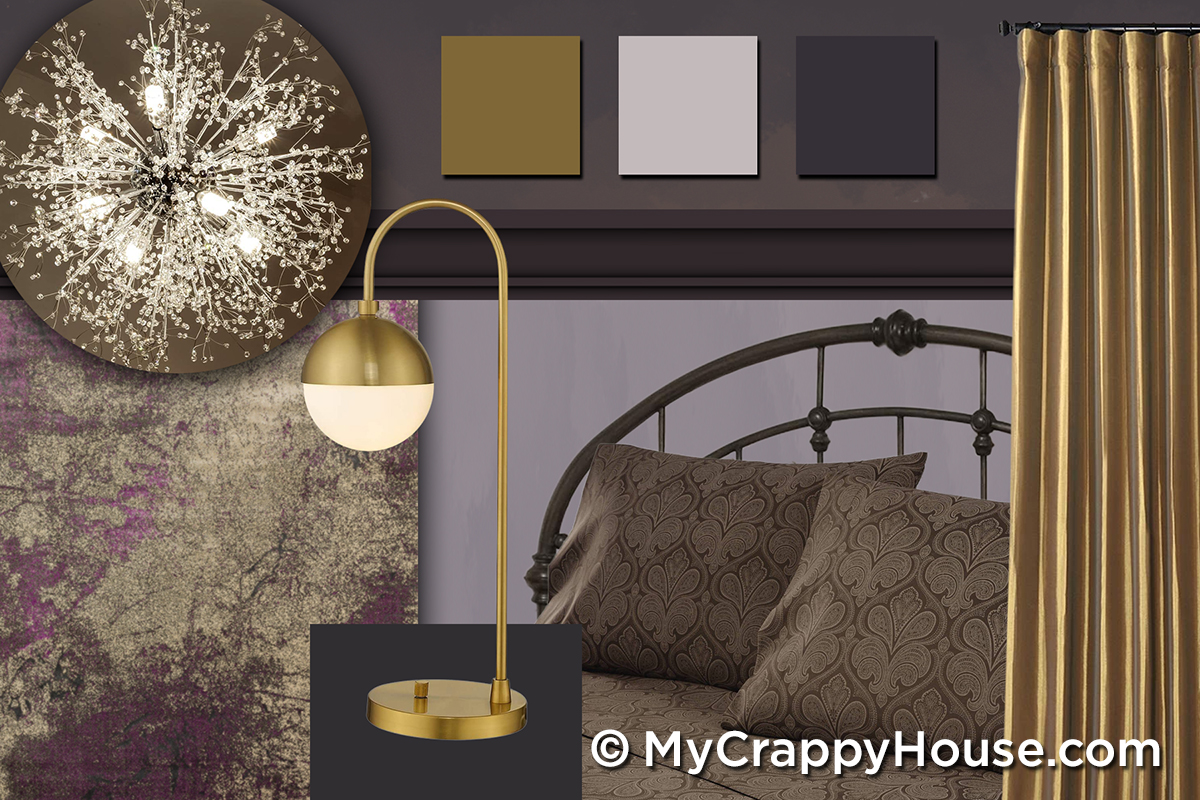 Chandelier | Lamp | Rug | Headboard | Sheets | Curtains
Dreamy…
Of course, I reserve the right to change my mind about any (or every) part of this design, but as of right now, I'm totally diggin' it. Some kind of dusty, twilighty, muted, purplish gray-type color on the walls; a darker, brownish purple-like ceiling; dark trim; shades of neutral and goldish brown in the curtains and bedding; antique gold accessories and hardware… All dark and moody. Perfect for sleeps. My favorite thing.
I am now on the hunt for all sorts of bedroom décor goodies. I just love browsing T.J. Maxx and Home Goods with a purpose. In the meantime, I guess I'll start on those repairs…
My least favorite thing.
*This post contains affiliate links.