Painting White Trim Dark Looks So Good
Come to The Dark Side
Do you ever fantasize about painting your boring, white trim a really dark color? I mean, white trim has its place, sure, but sometimes it just feels so… meh. So… ordinary. I don't know about you, but I prefer extra-ordinary. Actually, scratch the ordinary part. I prefer extra. Painting white trim dark is totally extra. For our purposes, in this post, that's a good thing.
Nay, a great  thing.
Check out the bold, glossy, black trim in my extra dressing room, below. (No, not an extra dressing room. I don't have two dressing rooms. I'm not a Kardashian. We literally just established what extra means in this post. Try to focus, please.)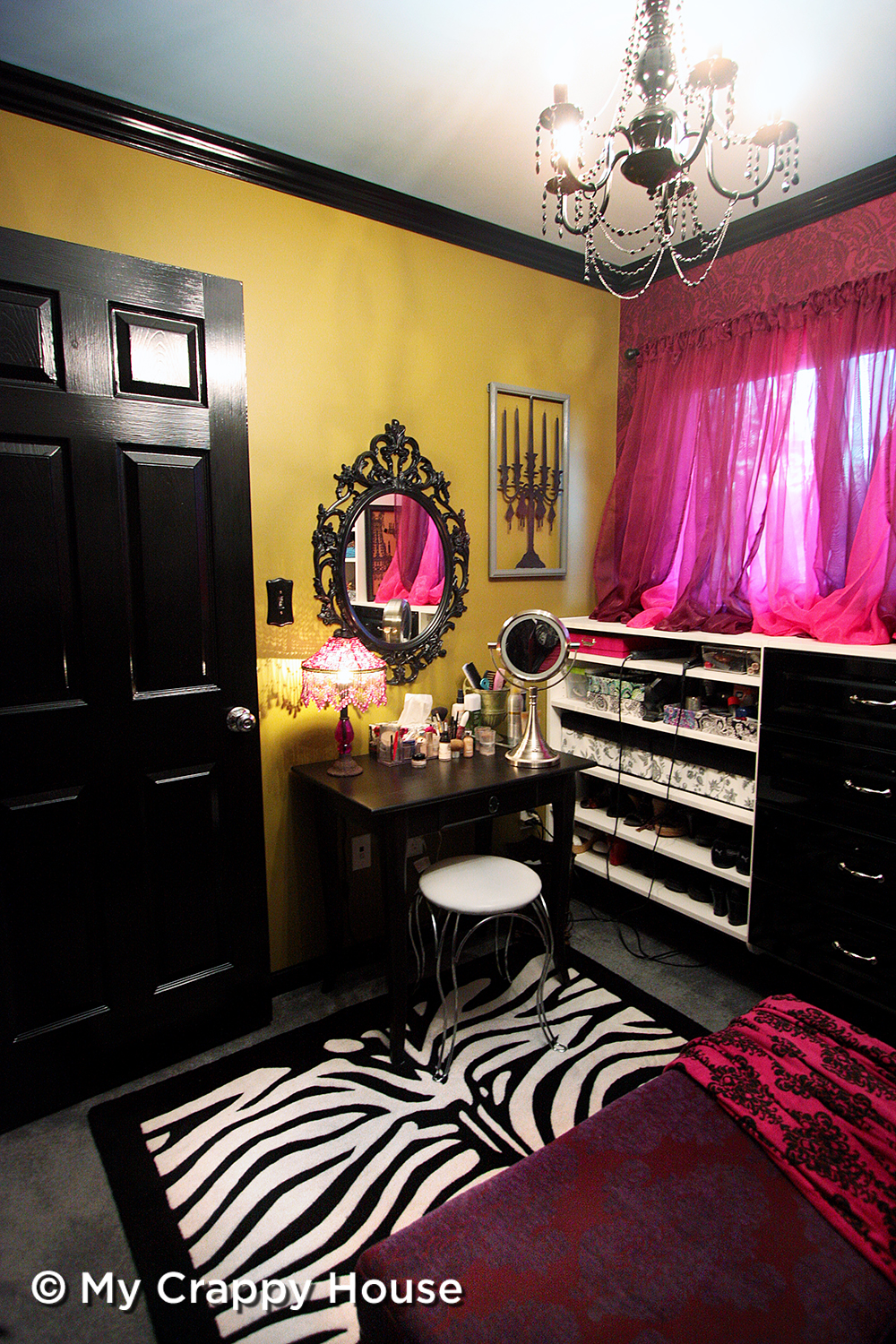 Back in 2016, I painted my dining room a beautiful peacock blue. This perfect blue did not come easy. No paint swatch in existence was the "right" shade, so I had to mix my own custom color. I may have (definitely) gone to Crazy Town to find it, but… this post is not about that blue. This post is about dark trim, remember? Guys, please. Focus.
I guess typical white trim could have worked in here, but that felt very nautical to me for some reason. (There once was a room from Nantucket…) I wanted my dining room to be extra moody and extra sophisticated (like me), so that meant darker trim. My bay window in the living room is painted Seal Skin, by Sherwin Williams, and I love it, so I decided to use that same color for my dining room trim. And wow. Am I right?
Yes, I'm right. That, my friends, is extra.
But wait…
I have an open floor plan. Next to my new, dark, sophisticated trim, my white crown molding just looked all kinds of wrong. Like 'white t-shirt at a black tie affair' wrong. Definitely underdressed. Not at all extra.
You guys see it too, right? You know what I had to do…
Hey, white trim. Ya basic!
The boring, white crown molding is continuous, around the whole living room…
And down the hall…
So, it was all or nothing. (Of course it was 'all'. This post would be pretty pointless if it was 'nothing'.)
I started the job on November 25, 2017. Here's an image taken from actual footage recorded on that day, so very long ago…
No, not really. But the date is real. Over three years ago, I painted the white crown molding in my living room and hallway dark. So, why haven't I shown it to you? In THREE YEARS?
Easy. I never finished it.
This is how it's looked for 1,152 days. I counted.
So, this week, I decided to finally get off my lazy bum and finish the job! (And also put away my leg lamp. It was time…) I had to take the curtains down so I could paint the window frame.
This picture only serves to add more cat to this post. You can never have too much cat. (Or cowbell.)
OK, back to business! It literally took me only one day to finish. Well, 1,152 days… plus one. Why do I put these projects off for so long? No, really. I'm asking. Anyone?
Maybe this is why…
I totally blew up my living room. But just for one day. No, really! Remember my foolproof cleaning method from a couple of weeks ago? I used that. You'll see. Keep reading…
The Glorious After Pictures
Here's the painted window frame, which now actually looks finished instead of all underdressed and t-shirty. Also, notice my chandelier is back where it belongs, in my bay window. No, it's not weird. It's awesome.
I'm ready to show you rest of the after pics, but let's take another look at the before, right here, so you don't have to scroll anywhere. (You're welcome.) Here's the view of the kitchen and dining room before…
And here it is now…
You know what I see when I look at these two pictures? Cohesion. Instead of my eyes locking onto the boring, white trim, I can appreciate my fabulous design as a whole. Everything is working together to make this entire space extra.
Man, I am so freaking talented.
OK, here's a few more after pictures, with their corresponding "befores"…
As you might have guessed, I'm not done with the hallway. Yes, I will be painting the door and base trim to match. That's going to take extra time, what with the carpet being in the way. (Extra in the traditional sense of the word.)
Here's one more view for you.
Could my doors be any more 'meh'? The answer is no. No, they could not. They're not staying white, of course. I've got door plans… And guys, I promise you, they will be extra. (I've really ruined that word, haven't I…)
Don't forget to subscribe…
*This post contains affiliate links.